FARM SHARE NEWSLETTER




February 5,2014
How does our food reach others in the community daily?
Farm Share, Inc provides food to numerous Non-Profit organizations. We have over 400 agencies in the Panhandle of Florida who are signed up to come pick up food from our Quincy facility each week. There are another
378 agencies and churches in Dade County and 52 in Broward County who rely on our Homestead location. Additionally we have a network of agencies with Star of the Sea in Monroe county. And roughly 115 agencies served from our Jacksonville location.
These groups pick up truckloads of items and are able to sort, bag and distribute from their locations. These groups help us to extend our reach to communities located all over Florida.
January 23, 2015 we distributed food to the small community of Indiantown, FL
January 28, 2015 – Homestead, FL
Sweet water Towers 100 Senior Citizens filled carts with fresh produce and other items. Thank you Representative Carlos Trujillo for your support.
We are preparing for a busy season with distributions every weekend in February. We still continue to seve approximately 50 agencies weekly, who pick up truck loads of food from our home location.
| | |
| --- | --- |
| | Part of the team making it happen! |
January 30, 2015 – Pensacola, FL
Over 500 households were served and
thanks to the Navy recruits and all other volunteers, Brownsville Assembly of God and Florida Representative Mike Hill
.
26,000 lbs. of fresh
veggies, tomatoes, green beans, onions, squash, bell peppers, orange juice, milk,
yogurt, bread, pastries and toiletries.
See this event in the Pensacola News Journal
| | |
| --- | --- |
| | |
| | Farm Share,Inc's Dave Reynolds and Rep. Mike Hill |
January 31, 2015 – Jacksonville, FL
This Well Care sponsored event hosted at Pleasant Grove Baptist Church served 316 households and 995 individuals 13,013 lbs of nutrition including: meat, green beans, tomatoes, eggplant, blue sky potatos, peppers, baked goods, bags of rice and canned items.
Help us spread the word about Farm Share, Inc
.
Follow us, like our post, share our video's, retweet, donate.
TEXT "eat" to 48444 to donate
For every dollar donated , Farm Share distributes more than 10 pounds of nutritious food to help feed the hungry.
With $10, we are able to distribute110 lbs of food to local churches, homeless shelters, and soup kitchens.
Your donation of $100 means more than a half ton of food goes to the hungry in our communities!
Did you see the news last week?
Farm Share, Inc. was awarded a $65,000 grant from Health Foundation to help provide free fresh fruits and vegetables to "Food Deserts" in South Florida!
After receiving $65,000 grant from Health Foundation of South Florida, Farm Share will be able to purchase a new refrigerated trailer and bring fresh fruits and vegetables to under served families without access or ability to afford fresh fruits and vegetables.
Thank you Health Foundation of South Florida for the new addition to our fleet of Big Red Truck's.
Follow these links to see recent videos and articles on Farm Share, Inc.
Attn: Media outlets, if you would like to help us spread the word about Farm Share, Inc and keep up with the latest news worthy information please to join our press release circulation.
Upcoming Events Open to the Public
Miami

2/6/2015

9AM – 12PM

MIAMI DADE COLLEGE

6300 NW 7TH AVE

MIAMI,FL 33150

Contact JESENIA

(305) 237-1724

2/7/2015

10AM – 1PM

MT. ZION A.M.E. CHURCH

15250 NW 22ND AVE

MIAMI GARDENS, FL

Contact HELEN

305-625-9836

Flagler County

2/6/2015

FLAGLER FAIRGROUNDS

150 SAWGRASS ROAD

FLAGLER COUNTY, FL
Media – Click here for press release

Brian Phelan
954 895 3599
Jacksonville
2/7/2015
9AM-12PM

CENTRAL BAPTIST INSTITUTE CHURCH

524 W 3rd STREET

JACKSONVILLE, FL 32209

Brian Phelan
954 895 3599
Wakulla

2/7/2015

10AM – 2PM

HARVEST FELLOWSHIP CHURCH

824 SHADEVILLE RD

CRAWFORD, FL

For more information Contact

harvestfoodmin@yahoo.com

Interlachen
2/11/2015
9AM – 12PM

ST. VINCENT DE PAUL

111 N. FRANCIS ST

INTERLACHEN, FL

Brian Phelan
954 895 3599
Jacksonville, FL

Incoming Donations:
101,000 lbs. of food and grocery items week.
Outgoing:
152,000 lbs. of grocery items and produce distributed to more than 2213 households serving over 8000 individuals.
9,630 lbs. of bread , 61,060 lbs. of assorted
food and non food items from Operation Blessings, Feed the Children brought in 30,069 lbs. of milk, 23,044 lbs of yogurt and our Homestead location delivered 94,082 lbs. for green beans, peppers, eggplant, tomatoes and onion to share with communities in Tallahassee, and at our Pensacola distribution.
Homestead, FL
129,414 lbs. of fresh produce, shelf food items, and non food items to share with local agencies and communities throughout the State of Florida. Homestead was able to distribute 226,052 lbs. of nutritious food and items to local communities in only one week!
Our teams are dedicated to fighting hunger! We couldn't do it with out support. If you are interested in volunteering
Click here
$10 to contribute?
Text "eat" to 48444.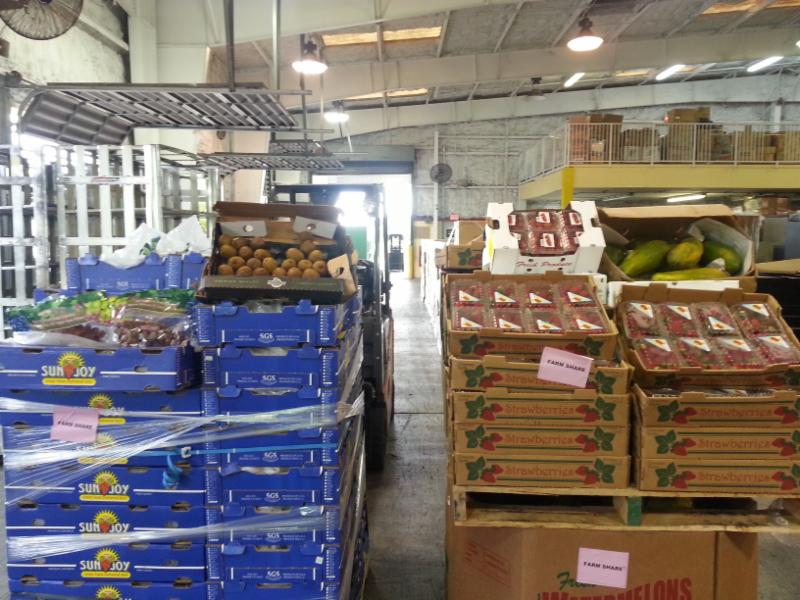 A highlight of this weeks incoming donations to Farm Share Homestead.
In addition to special food distributions, Farm Share continues to provide food to its over 1,000 community partner agencies every weekday from its warehouses in Quincy, Pompano, Jacksonville and Homestead.
We thank this week's sponsors & partners:
If you are interested in finding out how your business could be involved in supporting your local community
.
If you would like to make a donation to help provide food for children, seniors, veterans, homeless, foster children, and families in Florida
Click Here
.

Your donations provide food for our children, seniors, veterans, homeless, foster children, and families through out Florida.
Farm Share Locations
Homestead Headquarters:

14125 SW 320 ST

Homestead, FL 33033

P. 305.248.3006

F. 305.248.3020

Jacksonville Warehouse:

1502 Jessie Street

Jacksonville, FL 32206

North Florida Warehouse:

18212 Blue Star Highway (HWY 90)

Quincy, FL 32351

P. 850.627.9500

F. 850.627.9501

Broward County Warehouse:

1255 W. Atlantic Blvd.

Pompano Beach, FL 33069

P. 954.942.6785

F. 954.942.1556
The U.S. Department of Agriculture (USDA) prohibits discrimination against its customers, employees, and applicants for employment on the bases of race, color, national origin, age, disability, sex, gender identity, religion, reprisal, and where applicable, political beliefs, marital status, familial or parental status, sexual orientation, or if all or part of an individual's income is derived from any public assistance program, or protected genetic information in employment or in any program or activity conducted or funded by the Department. (Not all prohibited bases will apply to all programs and/or employment activities.) If you wish to file a Civil Rights program complaint of discrimination, complete the USDA Program Discrimination Complaint Form, found online at
http://www.ascr.usda.gov/complaint_filing_cust.html, or at any USDA office, or call (866) 632-9992 to request the form. You may also write a letter containing all of the information requested in the form. Send your completed complaint form or letter to us by mail at U.S. Department of Agriculture, Director, Office of Adjudication, 1400 Independence Avenue, S.W., Washington, D.C. 20250-9410, by fax (202) 690-7442 or email at
Individuals who are deaf, hard of hearing or have speech disabilities may contact USDA through the Federal Relay Service at (800) 877-8339; or (800) 845-6136 (in Spanish). USDA is an equal opportunity provider and employer.
All rights reserved. Copyright 2014